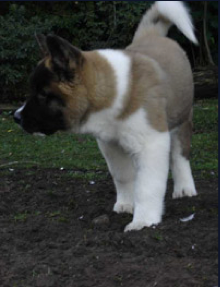 As soon as your puppy has joined your house he should gradually be accustomed to his new eating habits. As already mentioned, it is advisable at least for the very first days to feed him the same food and brand as the breeder of origin. We suggest to dedicate one week to the changing of the food, introducing every day a higher quantity of the new food into the bowl. We recommend to feed the young puppy 4-5 times a day, dividing the daily intake into many small meals in order not to put too much weight on the skeletal system of the puppy. Once the dog is 4-6 months old, you can feed him 3 times a day. We suggest to soak dry food in warm water and let it rest for a few minutes before feeding the dog. Also, from the very beginning teach your dog that food is a prize and that he should always respond to an order before receiving his meal.
By doing so you will immediately create a close link and feeling with your young Akita. Of course, you should keep a playful tone… and you will soon enjoy your puppy looking into your eyes to understand which game you want to play with him before each meal!
Finally, during the first year we recommend to integrate into the nutrition some condroitin solfato- glusammina in order to maximise the development of bone structure.
We are at your disposal should you need any further clarifications.