Modena International Dogs Show
03/02/2015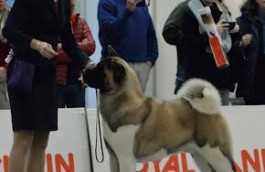 Another great result for MonteRosa Kennel, during Modena International Dogs Show ( Sunday 1 February) .
Our MonteRosa Dufau aka Tabuj – only 9 months and one week – at her first Show in Young class won the Class and after become B.O.S Emoticon wink. Finally….in the Young Best In Show with over 100 other breeds ,arrived in the Six short list !!!
Happy also for our EstavaRain One Armed Bandit , aka, "ORSO" took the B.O.B and finally in the Short list of the Group.
But we are very happy…for meet during the show two of ours preferite Puppies Joy Monterosa and Lea and spent many with their new owners and Friends – Ale&Ale Tarantino and Paolo Porciatti Giulia Frison.
Many thanks Valentina Cattaneo for helping during all the days , Jeff Longoni for being with us.
Luke Trainito for Tabuj
Richard Hellman and Roberta Semenzato for Orso.
Keep in Touch and see you later in Biella and Vercelli Int.Dogs Show.